Devastating. Crushing. Shattering.

When I had to pay an exorbitant amount to book

THERI

, Ilayathalapathy's recent flick, it was excitement yet traumatizing to see the ticket priced at SGD $18 (including booking fee).
In year 2000, I watched Ilayathalapathy's KUSHI at only $6.

In 16 years, the price has tripled. Overseas market for Tamil films has expanded which is a boon for Tamil film lovers like me. We get to watch and enjoy many more Tamil movies. However, are Tamil film producers and film distributors monopolizing the market? Are patrons like us suffering because of their greediness? or are we misunderstanding how film distribution works?

1) A producer plans to produce a movie. He sets aside a budget. It includes the actor's remuneration which is the biggest portion of a budget for any Tamil movie (or Indian films) followed by the music director's pay, actress's salary, technical crew's pay, production costs and promotions.

So what is the problem here?

Whenever, any one of these members start hiking their salaries, the producers have to end up budgeting for a bigger amount who in the end, have to compensate by selling the movie rights at a higher cost.
2) So what is this sales of movies rights all about? A producer after the completion of the movie, goes out to sell his movie to distributors. The distributors would then distribute it to theatre owners. So let's take an example of THERI. This was produced at a budget of 100 crores.

The latest reports stated that the producers sold the theatrical rights in Tamil Nadu itself for a whopping sum of 50 crores. There are more offers from the other states such as kerala and Andra Pradhesh where Vijay films rock the box-office records. Producer will be able to get a profit from the film's satellite rights as well. Over the years, it has been observed that the overseas market for Tamil Films has been a lucrative business for both the producers and distributors.
In this case of THERI, the overseas rights are sold for a massive amount of 18 crores, the highest for a Vijay Film.



So what is the problem here?
The policy in Tamil Nadu has made it one of the cheapest places to watch movies now.
Recovering the costs of a film has become more difficult in the last three years in Tamilnadu, with the Rs. 120 (SGD 2.46)-cap on ticket prices that covers multiplexes, too. A tenth of the seats in theatres and multiplexes in Tamil Nadu are sold at Rs. 10 (SGD 0.21). With rising maintenance and power costs, the reluctance of the government to re-look the fares could result in the closure of many cinema halls, the industry fears.

To simply put, the producer has no other choice but to find other means to sell his high-budgeted film. Therefore, that is also one of the reasons why overseas rights has been targetted to fetch an enormous amount. Because there is no regulations for selling the overseas rights.

3) There is one key player who buys the overseas rights for Tamil Films who distributes films in countries such as US, UK, Australia, European Nations, Gulf nations and Canada, Singapore, Malaysia and Sri Lanka of which 65% of the total overseas business of Tamil cinema comes from these 3 areas.
Malaysia - 30 %
Singapore- 15%
Sri Lanka- 20%
Let's talk numbers:

18 crores = SGD 364,000

Let's say the distributor has decided to do a 50% profit, he is going to put up an offer of $564,000.
And that simply means,

Singapore- 15% of $564,000= ($81,900)

Let's include printing costs, miscellaneous costs and round it up to $100,000.

So what is the problem here?

Ah! Here comes the mystery! A film's run, these days, has a shell-life of a week.
I found out that a particular theatre in Singapore is showing 45 shows in the first 3 days. So even if 10,000 watch THERI at the price of $18/per person,
it is going to swing at a $180,000 margin. $80,000 in 3 days!
But will this amount be enough for the theatre owner to cover costs of all maintenance costs and crew member's pay including the bouncers they have hired, for which I still don't understand the rationale behind hiring them.
If the ticket price is capped at $12 which I think is a very reasonable amount, would patrons be able to enjoy high quality cinema experience, now considering that their business may not be thriving well because of the reduced ticket prices?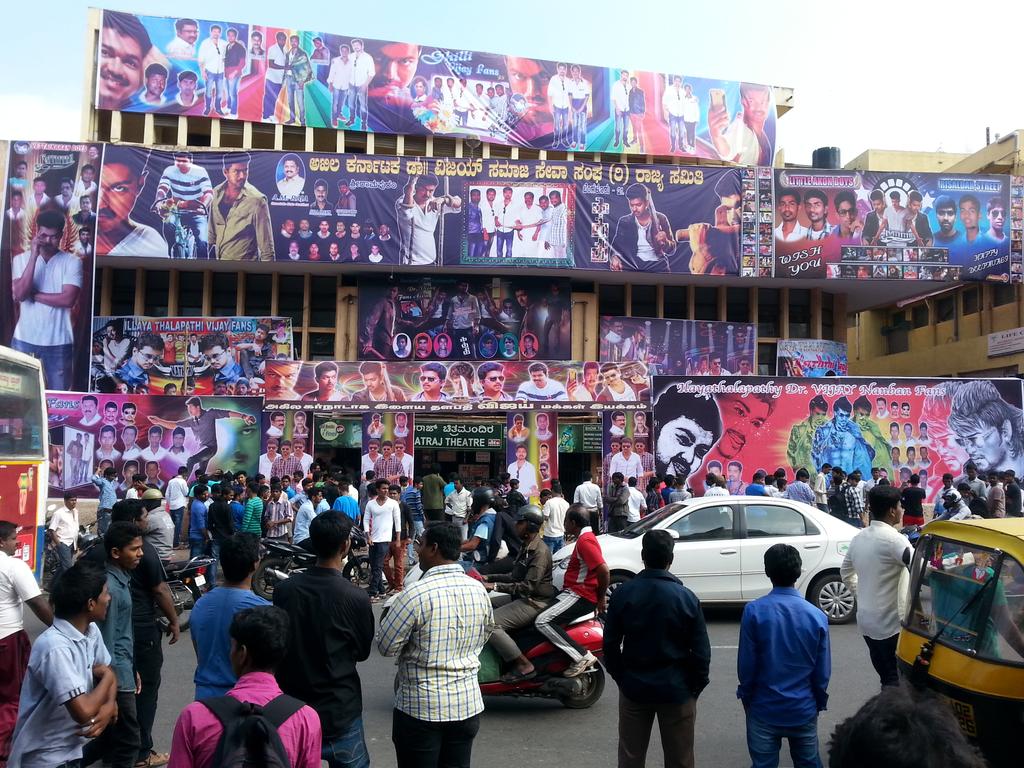 4) Instead of enjoying a movie, it is still upsetting that a common man like me, has been bombarded with such burning questions, answers for which, are still an enigma to me.

Back-tracking to the root problem, are the actors, music directors and actress going to show some social responsibility and do something about their preposterous pay?

Are the producers and distributors going to stop monopolizing the market?

Are the theatre owners going to stop selling tickets at sky-rocketing prices?
*********************************
For decades, film-goers have been taking the risk of watching a film either it be good, bad or terrifically torturous. Watching a film used to be a family affair and a festival time. It has all drastically changed now with these mind-boggling numbers and money-making business moves.

Producers and stars should not kill the goose that lays the golden egg by asking for ridiculous prices.
WE MADE YOU BECOME WHAT YOU ARE, TODAY!


Patrons like me have been paying from their pockets, sometimes miserably ripping them apart for a film.
*************************
Arjun Kapoor whose recent bollywood film "Ki and Ka" has been a box-office hit understood the dynamics of making a film within a budget. He realised that one way of controlling the budget was reducing his fees as an actor. So he took a pay cut and cut a deal for a stake in the profits. If the film does well, it is going to benefit the actors who takes on this route. The risk-taking has certainly paid off for Arjun Kapoor.
************************************************************




Guess it is time that the people directly involved in the film, do the risk-taking as well!