With the lead hero in colourful hair-dye, out-of-fashion attire and rustic frames, jil jung juck claims to be a new age Tamil cinema which unfortunately failed to fascinate me.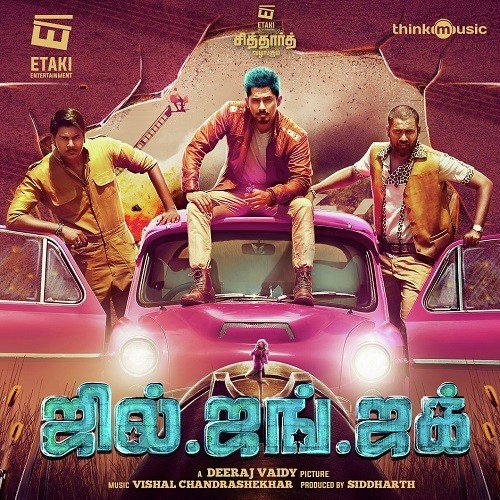 Why?
1. No matter how many times we debate about the existence of a clear-cut successful film formula, we all know that there may not be one but there is an unwritten rule- that the audience needs to know the travel of the story within 15 mins. However, triple J's plot seems to be lavishly spending th
e first 10 mins in voice over narration explaining the characters. No dude! Don't do that! Let the visuals speak, let the music blossom, let silence scream- film is a visual medium, don't treat it like a radio drama. When the voice over ended at the 11th minute, the film lost me.
2. The introduction of 2 dozen characters in the first 10 mins didn't pull me towards the film either. I lost the film.
3. Unable to relate to the characters and the location. When soodhu kavam attempted a similar pattern, it hit the jackpot for a simple reason that we as audience were able to relate to the character, props, characters and story. Simple as that. Triple J's vintage car... Hmmm... No dude. Sorry!
4. Jokes- after the first 60-odd minutes, the antics of Jil, Jung and Juck begin to feel laboured, and the laughs were coerced.
5. It was an entertaining short film when deeraj, the director, showcased it in one of the short film competitions. However, the feature film version was forcefully stretched. The "stretch marks" here obviously didn't seem to be beautiful as it meant to be.
Just like how vadivelu's comic one-liner "Jil Jung juck" describes 3 types of women, this film too falls in 3 different segments.
Jil-
Jung- producer/actor siddarth's attempt to give short filmmakers an entry to Tamil cinema. The two promotional videos done by put chutney YouTube channel (which was way too hilarious than the film). Producer's new way to attract the audience by trimming the 2nd half of the film after a few days of release.
Juck- everything else.
A
vibrant
colour
palette
that appears promising in the posters disastrously faded off in the
dark
, on big screen.