We are a world well accustomed with the term- FAN. Shah Rukh, Amitabh Bachchan, Amir khan, Madhuri Dixit, Kajol, Deepika Padukone and the names go on - They are not just actors and actresses whom we see on screen, they are our emotions. We build temples, we pray, we fast and sometimes we even go to the extent of sacrificing our lives for them. We celebrate the existence of these demi-gods. Why are we overly-obsessed with such human beings? What happens when our obsession crosses the limit?
Maneesh, the director, has tried to explore this unfathomable devotion in
FAN
.
Acting and Cinematography
One-man army. That is SRK for sure.
It is SRK's most daring and most complex performance to date. There are moments of such brilliance, scenes so piercing and remarkable that they'll leave you speechless.
Being the fan of Aryan Khanna (SRK), Gaurav(SRK)'s acting has something that has never been played before by any star in bollywood. An actor's job is to know the breadth of human possibility and the depths of their own possibilities. They must pull from this well and surprise us. Gaurav has indubitably surprised me.
The scene where the fan and the star meet is one example of how SRK answers all those who've ever questioned, doubted or joked about his acting abilities. Cameraman Manu Anand's work is a dazzling display of bravura in this scene because it is not easy to capture the two SRKs on the foreground and at the same time, creating the duo in the mirror at the background. VFX of this level is something phenomenonal for Indian cinema. Kudos to VFX team!
In all of our favorite movies, there are a handful of lines we can recite by heart. Powerful lines make us smile and crystallize the emotional experience of the narrative. There are such beautiful lines in this movie as well. Writers Habib Faisal's and Sharat Katariya's dialogues nailed it right off the bat, creating a realistic flavor.
1)
When Gaurav was caught red-handed by the ticketing officer in the train, the officer reprimands Gaurav for risking his life and asks, "Who are you to Aryan Khanna? A friend?
A family member? A relative?"
Gaurav's wrenching, deeply-moving reply:
"I am his fan."
2)
Gaurav reminds Aryan:
"You exist only because of me."
The message echoes so strongly that it is not just a dialogue exchanged between the characters, but a reminder to all the stars in the industry. A star is born because of a fan, a million of them indeed. This, I feel, is the ultimate meta-moment in the movie.
3) "No matter how hard we scream, it will never reach him."
4)
In a chartered flight from London to Dubrovnik, Aryan's assistant advises him to ignore Gaurav.
"He is neurotic," she tells him.
The star retorts rhetorically: "What, am I?"

Another line to prove the writer's eloquence.
So why wasn't I impressed with this 105-crore film?
The plot that carries such deliciously devilish potential and flair to become a roller-coaster breeding thriller, stooped to fatuous pandering post-interval. It is so dim-witted and formulaic that it becomes an execrable experience to sit through the bike chases, the running, confusing and repetitive events.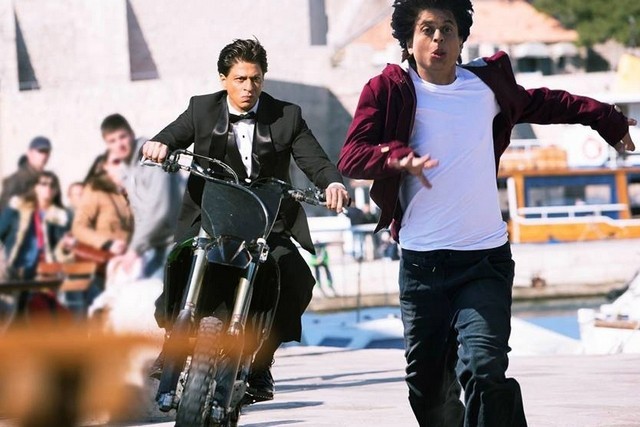 All Gaurav wanted, was an apology but Aryan Khanna couldn't give one. There are too many loopholes in the story that it makes me wonder if I am watching an unrefined draft of a primary school drama. In the first half, the fact that Gaurav bears an uncanny resemblance to Aryan Khanna does not invite any public gasps of surprise from those who run into him in the street and elsewhere, is indeed unjustifiable. Neither the guards manning the entrance of Aryan Khanna's Mumbai bungalow nor the hundreds of other fans milling around the place take any notice of Gaurav who has won Aryan khanna look-alike contest thrice, is yet again unpardonable.
But in the second half, visitors at Madame Tussauds as well as the London police are taken in by his visage and believe him to be the movie star the world knows.
Kya, logic?
I can't seem to believe that this petite Gaurav who is bashed up by the officials in the first half, is able to run miles navigating through the corners and streets in unknown country. And that too, in Croatia.
For a film without any songs or comic relief, 2.5 hours is really a tortuous experience. A 30-minute trimming would have possibly saved us from boredom. At one juncture, I felt tired.

Extremely tired.
I believe it would have been a different experience, if the essence of the film was reconnoitered at a deeper level. For instance, the sequence where Aryan Khanna is invited to perform in a rich man's daughter's wedding in Croatia is supposed to be interesting. However, I feel that it is way too predictable. Why didn't the writer and director choose to tell the audience the struggles behind the fact that big stars accept such invitations and go through insults?
What are the difficulties of being a star? What is the menacing truth of being the king of Bollywood? What does it look like on a normal Sunday for a star? What are the threats he face among his own colleagues from the industry? Where does he go after work? What does he do? There is a scene when Aryan Khanna greets thousands of fans on his birthday who would be waiting for him outside the humongous compound wall. He waves at everyone and blows kisses. The scene ends there.

Why didn't the story bring us further into the star's life- when he goes back to his room after greeting his fans, what are his reactions? How does he feel to see so many fans waiting for hours to just see him for a minute? What does he feel? Who does he share this with? – Arya Khanna's life isn't portrayed much in the story and that is the reason why I couldn't sympathize with the star's life and his superficial problems that are part of the story. On the other hand, I couldn't sympathize with Gaurav too. Because I am not that kind of a fan as well. Is it that easy to reach a star even with the help of twitter and facebook? I would possibly visit Croatia to admire the beauty of the place than to chase my idol.


Rehne de, tu nahi samjhega' (let it be, you won't understand)
is the last thing we hear before the curtain falls. Is it meant to be taken in the literal sense?
I chose to write this review 2 days after watching the film and not immediately. I hoped that after 2 days, I would be able to understand the film and not just let it be how I felt right after the film.
However, the film remains as a mirage in my mind.
Dear SRK,
you brought us to TamilNadu in Chennai Express
you brought us to Dubai in Happy New year.
you brought us to Bulgaria in Dilwale.
you brought us to Croatia in Fan.
When will you bring us to a soul-stirring, entertaining and intelligent cinema?
Yours truly
A Jabra Fan