This is the third film released this year that proudly carries the tag "A Film by a Lady Director". As much as we do not want wish to highlight the gender differences in a field where equality is much appreciated, it is still inevitable for Tamil cinema Lovers to celebrate the fact that very few women directors emerge successful in this male-dominated industry! So kudos to Ashwiny Iyer Tiwary, the director of "Amma Kannakku".
Ashwiny's debut Hindi film, 'Nil Battey Sannata' won huge critical acclaim. The heart-warming narrative of a mother-daughter relationship is now remade as "Amma Kannakku"(AK) produced by Actor Dhanush. Amala Paul embraces the role of the indefatigable feisty mother who does not give up hope. This is one of her most nuanced performances and a welcome change. The highlight of AK is undoubtedly Amala Paul who has become even more beautiful, slimmer and she glimmers with a radiant glow, shattering the unwritten rule which screams as "Indian women goes out of shape after marriage"
Newcomer Yuvasri who acts as the daughter of Amala Paul in the film, surprises us with her spot-on act of a film-obsessed rebel without a cause. Kids do have a way of hurting the parents most, the way she does. We have all done that too at various points in our lives. The way Amala Paul seeks strength and support from her employer Revathi is just as believable and real. And it's nice the way Ashwini keeps Revathi's husband in the background, a perennial presence who rarely intrudes or speaks up. There was so much authenticity in the portrayal of the husband's character.
The chemisty, as cliché as it may sound, between Revathi and Amala Paul is another lovely depiction of how an employer-employee relationship should be. When Revathi asks Amala Paul to help her pin up her saree just like how our mothers at home, desperately seek assistance from our helpers and the moment when Amala Paul tells Revathi, "yemma, book paarthellam samaikaatheenga." completely painted the picture of how a usual household runs.
As we see heroes who are boldly uttering dialogues such as "virgin pasanga sambam chumma vidaathu di" and film songs that splash myriad colours causing eye-infection, AK is definitely different from the usual masala flicks and it is a normal, plain, simple and decent flim.
But, wait.
Tamil film is now thinking of different storylines and winning accolades globally, so how much does a decent film like AK touch the hearts of the audience? Are we merely going to be contended with just watching a decent film that had too many miscalculations?
No doubt the actresses exhibited some top-class acting but the story, characterization and screenplay failed to make a mark. The film lost me in the first 10 minutes. Something kept me at a distant from the mood of the film. When Dhanush's previous production, Visaranai gripped me from the first frame, it was shocking for me to see that this production of his, couldn't do the same magic. Ak was neither dramatic for me to enjoy nor realistic for me to ponder over for the next few days. AK made me linger around somewhere far, and that was one the reasons for the lack of engagement.
"Vellaikaari" may not necessarily be the stereotypical poverty-striken lady who does all the work 24/7 and be exploited by the rich. I didn't expect a Bala kind of extremely sorrow-filled characterization either. However, in AK, Amala's character didn't bring out the sympathetic feel that was necessary for the film to taste success. She was more of a housekeeper who was very well taken care of, in her employer's house. Amala's daughter, who indeed looked like a younger sister to Amala, had some problems passing Mathematics. Thus, other than that, what was the difficulty Amala had to go through in her life?

Even if the financial constrains faced Amala were highlighted, she had Revathi, who was a renowned doctor who could have helped her. Why didn't Revathi offer her help? Amala who wanted to help her child and challenge her kid to do well in Mathematics, joined the same high school that her daughter attended. As her daughter didn't like this arrangement, both of them became temporary rivals and it looked more like a Tom and Jerry struggle which completely ruined the seriousness of the plot.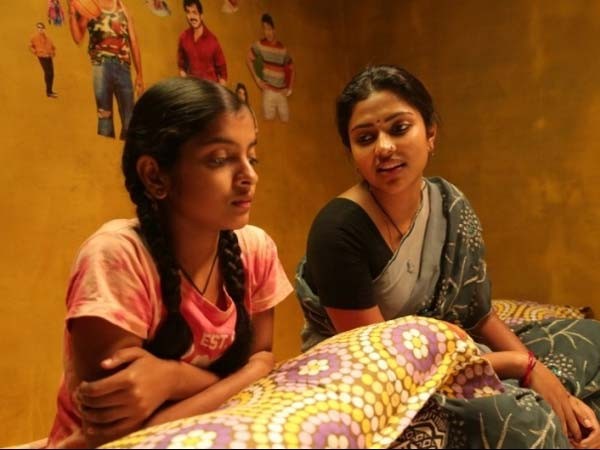 Dwelling on a emotional-driven plot, this film had all the rights to endow the audience with many tear-shedding scenes which would have been a major plus for the movie . Like one of Dhanush's previous productions, Kaaka Muttai, I am very sure that everyone would have shed a tear or two, when the older brother says "Dei! pizza nallavey illai. ithuku aaya sutta thosaiye nalla irunthuchu." The actors were smiling on screen but the viewers were moved. That kind of magical moments were in abundance in the plot of AK and I felt it was not explored at all.
In the Hindi film 'English Vinglish' that was directed by Gauri, a female director- Sri devi struggled at the café as she ordered water and when she ran out of the café in embarrassment, we felt for her. It was a scene that touched many hearts. We were angry. We were upset. We were embarrassed. We cried. We went through the same emotions that Sri Devi had, as she sat on the bench after the café scene. But in AK, Amala Paul didn't want her kid to grow up as "vellaikaari" and tells her kid, "Office Boy job ellam oru vellaiya?? Driver aagi enna panna mudiyum?"
Why this discrimination, man?
On another instance, Amala looked at her daughter who was cooking in the kitchen and Amala said,
"Pen pidicha kaiyile karandi pidikaathey."

There she goes again, looking down on having some culinary skills?

Not forgetting the illogical sequences where Amala goes to the collector's house to ask information about becoming a collector. Why can't she ask Revathi who is an educated person? How does Amala manages going to school, housekeeping work at Revathi's place and also work at the seafood factory? How do the daughter's close friends not know that Amala, the new student in their class, is their close friend's mum?
And the indigestible scene is to see the daughter turning over a new leaf after getting lectured by the friend. Grrrrrr!
As Amala massages Revathi's hair with oil,
Amala: Ma, naan onnu sollata, sometime-le naan yosikum podhu
Revathi: nee romba yosikara shanti
Amala: Yes-u, but-u eppo abhi 10th pass aayitaal-na, athuku mela yina panna mudiyum?
Revathi: shanti, mudhale abhi 10th mudikatum. athuku apparam nadakurathu nallathave nadakum
Amala: appadi-engreenga! okay!
Revathi: madamku eppolaam English-ah koduthu.
amala: schoolku porom-le
And Amala gave a classic reaction after saying that with so much of pride. If only, such perfectly-crafted characterization and beautiful realistic moments were weaved in the screenplay, Amma Kannuku would have scored a distinction!
Oh! Did I even mention about Samuthirakani's contribution to the film? That unnecessarily force-fed comic role and performance are unquestionably the "Brexit of recent Tamil Cinema"- then how else would you describe greatest form of acting "exiting" the National award winner Samuthirakani?